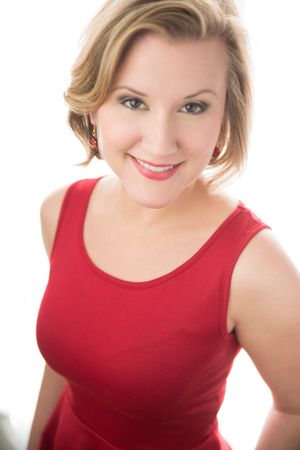 Amanda Beagle has spent the greater part of her professional life invested in the development of young people through the arts. From coaching clients to embody and live their personal values to developing young singers and taking the stage herself as a singer and speaker, Amanda is passionate about storytelling and what it does for the individual's realization of self as well as the connectivity it creates in a world often divided by cultural differences.  
Amanda has maintained a private vocal studio since 2001, both in the Warren/Youngstown area and New York City. She has been on faculty with music schools in New York City and South Orange, New Jersey serving a diverse body of students. An experienced theatre teaching artist, she has also trained extensively with Lincoln Center Education, The Metropolitan Opera Guild and the City College of New York in Educational Theatre and teaching artistry. All of these wonderful learning opportunities contribute to her knowledge and ability to work with students with varying needs and skill levels. 
Her training and experience support a whole body approach to developing functional vocal technique that trains singers as the dynamic athletes and artists they are. Ms. Beagle currently serves on the Musical Theatre voice faculty at Youngstown State University and maintains a vibrant private studio serving amateur and professional singers of all ages and skill levels. 
A lyric soprano, Ms. Beagle made her New York City debut at Lincoln Center performing with the Little Orchestra Society in their production of Babes in Toyland. She toured the world as a vocalist for Holland America Cruise Lines singing in their Showroom at Sea productions and has performed in several regional theater productions. Some of her favorites include The Wizard of Oz, Les Miserables, Into the Woods, The Music Man and Beauty and the Beast. She made her New York City Cabaret debut in 2017 at the famed Metropolitan Room and has entertained at the iconic Sardi's Restaurant and Don't Tell Mama in the heart of Manhattan. She has also performed on Lake Chautauqua's Floating Stage and various Italian Festivals through the Northeast with her solo band show of Italian and Italian American favorites. 
A former Miss Ohio, Ms. Beagle competed live in Atlantic City for the title of Miss America 2005 where she was a non-finalist talent award winner. An advocate for arts integrated classroom curriculum and after-school programming, Ms. Beagle made promoting literacy through the arts her platform issue for Miss America. A longtime teaching artist for Youngstown State University's SMARTS-Students Motivated by the Arts, Amanda helped facilitate the Metropolitan Opera Guild's Creating Original Opera program with numerous Youngstown City School students. Ms. Beagle regards this time as some of the most rewarding and impactful work of her career. She continues to contribute to the SMARTS mission as a teaching artist today, helping to create applied theater curriculum for children on the Autism spectrum as well as Pre-K through 8th grade. 
Ms Beagle studied music and voice at Youngstown State University's Dana School of Music and had the privilege of studying Italian Opera and diction with Lorenzo Malfatti privately as well as at his prestigious summer studio program, The Opera Theatre of Lucca, Italy. Eager to develop her entrepreneurial skills, Ms. Beagle studied Entertainment Business at Full Sail University earning a MS. 
Ms. Beagle currently resides in Howland, Ohio with her husband and pup Stella. She is the owner and director of Amanda Beagle Vocal Studio.  
* Ms. Beagle is a proud member of The Actors Equity Association