"

The perfect blend of passion and old world charm for an electrifying, unforgettable night!"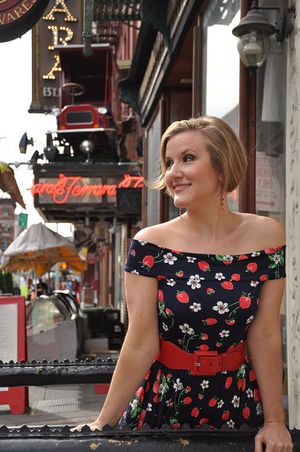 "An Evening in Roma" pays tribute to songs made famous in the U.S. among Italian-American's and those cherished in the homeland and passed down from generation to generation.
Crossing over the genres of Jazz, 50's and 60's pop, and classical, Amanda covers songs from the likes of Connie Francis, Jerry Vale, Mario Lanza, Rosemary Clooney, Dean Martin, Andrea Bocelli, Luciano Pavarotti and many more with this colorful collection of Italian favorites.

Having grown up in a huge Italian family, Amanda loves keeping her own Italian heritage alive. She draws inspiration from family traditions and stories, her travels and studies through out Europe and her own Italian Mama!


 
"

Not only is she beautiful...she possesses a beautiful voice -- a lovely, burnished legit soprano who sings with superb pitch, intonation and diction, and with great expression as well. I loved her stories and thought the show was absolutely delightful! "
— Phil Hall ~ Vocal Coach/Music Director
0:00/3:13

0:00/2:56

0:00/3:20

0:00/1:55

0:00/2:20

0:00/0:44

0:00/2:15

0:00/3:22

0:00/2:37

0:00/2:03

0:00/3:47